"I wanted to let you know that it was great experience doing business with you.The selling of our 2006 corvette was a hard thing to let go of, but I'm very glad it was you who called. You made it easier knowing the car was going to a person that loves and appreciates a fine vehicle that a corvette is. I would highly recommend C and P Imports to whoever would want to buy or sell a fine automobile, because he will treat you with the respect you deserve. Thanks again."
We only buy cars that have exceptionally low miles. We're particular about options, color combinations, maintenance and ownership history. We do not buy cars with any history of accidents or mishaps. Although we specialize mostly in Corvettes and other sports cars, we also buy and sell late model, low-mile luxury, highline cars, motorcycles and SUV's.
Please know we are always buying these specific Corvettes:
1990 - 1995 Corvette ZR1's (any color, under 15k miles)
1993 Corvette 40th Anniversary Edition Coupe, Convertible or ZR1 (under 15k miles)
1995 Corvette Pace Car (under 15k miles)
1996 Corvette Collector's Edition. Coupe or Convertible (LT4 only & under 15k miles)
1996 Corvette Grand Sport Edition Coupe or Convertible (under 15k miles)
1998 Corvette Pace Car (under 15k miles)
1997-2004 C5 Corvettes (under 15k miles)
2002 - 2011 Corvette Z06s (under 10k miles)
2003 Corvette 50th Anniversary Edition Coupe or Convertible (under 15k miles)
2004 Corvette Commemorative Edition Z06 (under 15k miles)
2005 - 2011 C6 Corvettes (all models, under 10k miles)
NOTE: If you are the first or second owner of any of the above listed Corvettes or aforementioned vehicles and are planning to sell, we are serious about buying. Your car must have all original paint with no history of accidents. Items such as the original window sticker, build sheet, books, keys and maintenance records are strongly desired. Your car must be all original and all stock with no engine modifications. Aftermarket exhausts such as Borla, Corsa, are acceptable.
Our dealership handles all of the required paperwork related to the transaction including the preparation of the Purchase and Sale Agreement, Federal Odometer Disclosure Statement, Authorization for Payoff, Title Assignment of Ownership, Customer Declaration, CarFax and more. We do not charge documentation fees.
To make your sale even easier we:
Pay off your outstanding loan if applicable
Pay transportation cost
Follow automobile industry rules, guidelines and business practices
Use Official Certified Bank Funds at closing
If interested, please call, fax, or email a complete description of the vehicle you are selling. If possible, provide a copy of the original window sticker including the V.I.N.
You will never find a car from C and P Imports that came from an auction - we rely on private sellers to support our inventory levels.
We invite you to read the many unsolicited testimonials written by sellers like you.
Referrals including phone numbers from private sellers across the country gladly provided upon your request.
We look forward to doing business.
Sincerely,
Dennis,
C and P Imports
617-543-5100
Seller's Testimonials:
As a business owner, I place a high value and responsiveness along with professionalism and instill this philosophy throughout my company. When dealing with vendors and consultants, it goes without saying that decisions are made in large part in favor of those who are like-minded. Over the past few years, I have spoken to the team at C&P Imports about their listings. Unfortunately, due to the exceptional quality of their inventory, I was too late to purchase the vehicles I was interested in – their cars sell very quickly!
When it came time to sell my 2014 Corvette Stingray, I knew it was the right decision to contact Dennis. Within 24 hours, the transaction was complete without a snag - a much better solution than attempting a private sale, from my perspective. John took care of all the required documentation and the closing was a snap! I highly recommend C&P Imports for any buy or sell transaction you are considering.
I recently sold my Corvette to C and P Imports who had contacted me following an online ad that I had posted.
From the minute Dennis started talking to me and once determining my car met their high quality standards, I could tell that this was a seasoned professional who knew how to establish a good working relationship with the interest of both parties in mind. The process of selling my vehicle could not have been any smoother especially when compared to having to deal with the low-ballers and tire kickers for which there were several. After a couple of phone conversations with Dennis and partner John who was equally polite and respectful, it only took them about two to three hours to fax over a Purchase & Sale agreement along with a copy of the cashier's check for my review. C and P delivered the check and picked up my car that same evening! It was a pleasure doing business with Dennis and John.
I would highly recommend C and P Imports to anyone who intends to sell their treasured sports vehicle at a fair price with as little hassle and as quickly as possible.
I just wanted to send you an email and let you know that I was very pleased with the way that you guys handled the purchase of my Corvette. You came in with a strong purchase price and were very friendly and easy to deal with. I would tell anyone feeling uneasy about selling a big ticket item that the crew at C and P Imports are true professionals and not to worry. Thanks Again.
I want to thank C and P Imports for a very smooth transaction. There were very professional and were a pleasure to do business with. From shipping to payments, they were much easier to work with than even a local dealer. Very to the point with no games. I would recommend them to anyone and would not hesitate to buy my next vehicle from them.
Dennis and John, you are one class act. I must admit that I was skeptical at first...selling my car over the phone without ever meeting you. I loved the trust and honesty I got from you. The whole transaction was as smooth as glass. I wouldn't hesitate telling anyone who wanted to buy or sell a perfect car, to see you first. You made selling my Vette way better than I ever expected. Thank you so much...you guys are the best!
When it was time for me to make room in my garage for newer cars, Dennis at C and P Imports purchased my M3 and M5 outright at a better price than any new car dealer or private buyer would consider. Once we agreed upon an amount, I had a certified check for the funds in my hands the next day. I am very attached to my cars and it was a very challenging decision to choose which one(s) would be sacrificed for space. Dennis was very understanding and treated the cars he purchased from me with the respect of humans. Thank you, Dennis, for helping to make this transaction as painless as possible. I couldn't find a better person to deal. I feel more relieved that another enthusiast may enjoy them as I have.
You and your company are a tribute to the auto trading business. I appreciated the way you consummated my deal and followed through with all the paper work including paying off my loan. I'm sure we will do more business in the future.
Thanks,
I recently had the occasion to have dealings with Dennis of C & P Imports. For the record, I don't normally have a lot to say about car sales people. I will however, like to point out, Dennis one of the owners, was not only pleasant, forthright and knowledgeable, but he actually seemed to care. With car folks like C and P, I'd actually recommend them. One other thing, they've got some sweet cars.
Ever since I was a boy, all I ever wanted was to own a Corvette like my father. As difficult as it was to part with my Vette, C and P made the process as easy and seamless as possible for me. They were able to make a fair offer over the phone, work through all of the necessary logistics, and have the deal closed and car picked up in a matter of days. I would highly recommend C and P, and I look forward to working with them in the future. I hope to be on the buyers side next time.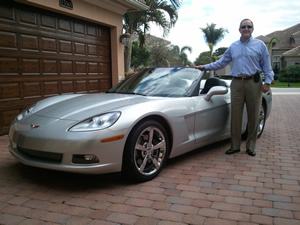 I originally placed an ad online in an attempt to sell my 2009 Corvette Convertible. I must admit being very skeptical when you called as a "dealer" inquiring about my car. At that point I had received calls from numerous dealers that fit the typical stereotype as well as from private buyers. I was impressed by your demeanor and professionalism not to mention the reasonable offer you made. I almost forgot to mention you made the process hassle free. I would highly recommend anyone contemplating selling a car privately to strongly consider selling their car to you.
Even though we did not end up purchasing Steve's corvette he was nice enough to write the following:
"I wanted to thank you for all your guidance in selling my 2008 Corvette. I know that this is not your traditional testimonial, however I would like for a potential customer to feel good in deciding to do business with your company and feel free to publish it on your website.. As you know, I was contacted by C and P imports after I advertised my car over the internet. You stated you were willing to pay me more money than another dealer would for the car. I was hesitant and reluctant about your offer. After researching your business online, such as ebay and other reference sites, I realized the reviews/experiences with your company had been extremely positive. Also, other dealers were nowhere in the price range of what you were willing to pay for my car. In addition, your knowledge of the market was sincerely honest. You really took the time and went out of your way to explain my options and were very informative. You separate yourself from the old negative stigma of dealing with a "car salesman." In the end, we didn't get to do business, however I wanted to say how much of a help you were to me and it is nice know that there are still good business people out there. I would not hesitate to buy a car or refer a friend to C and P imports. Thanks and all the best."
Dear John and Dennis,
Just a note to thank you both for the expert experience you provided to us. At my age and not even having a computer I was very suspicious about dealing on the internet at first. However, after several conversations both myself and Connie were convinced that your policy of trust and honesty was in fact your way of doing business. Again I was very happy with our transaction and would enjoy doing business with you again. Thanks C and P Imports for all your help. You may use us for a reference if you wish.
I just wanted to tell you it was a pleasure doing business with you guys. I will miss my 07 Shelby, but selling it to you took a little of the sting out of it. The Shelby is going to make its new owner very happy. You were very professional, honest, and treated me fairly. That's all anyone can ask in any business deal. If I find myself in the market for another sports car down the road, I won't hesitate to give you a call. This time I'll be a buyer. Based on my positive experience selling to you, I know I would get the same treatment as a buyer. I hope we get to do business again.
We asked Paul to send a photo of him with his Z06 along with the testimonial he offered to write for our website. He sent both of these photographs. Ha. Ha.! Hey Paul, you made the process a lot of fun with your great sense of humor. - Dennis.
When I decided to sell my 2008 Z06 with 4k miles I advertised it locally and on the web. Among the many responses to my ad was Dennis, the owner of C and P Imports in Boston. Dennis was extremely careful to be absolutely sure that my car would measure up to the high standards he demands of the cars he sells. Of course we negotiated back and forth until we came to a mutually acceptable figure. The point of my comments here is to tell people how particular he was about making sure my car measured up to his standards. I would not hesitate to buy a car from C and P Imports knowing that all of the cars they sell meet the same high standard that he expected from the Z06 that he bought from me. I want to mention also that Dennis was a pleasure to deal with - always respectful, no pressure, very fair with a great sense of humor.
"It's been a few days since you purchased my Corvette Convertible. I just wanted to write to say that the pleasure was all mine in dealing with you guys on this transaction. You made me feel very comfortable with the entire selling process. I hope the car does well for you and I will be spreading the word about C and P Imports LLC."
C and P was outstanding to deal with, Dennis treated us like he was a friend we knew for 20 years. He did everything he promised and gave me a very fair price for my 2010 ZR1 with 390 miles especially when compared to my local dealers I would highly recommend C and P Imports LLC am looking forward to our next deal together. Thanks for everything.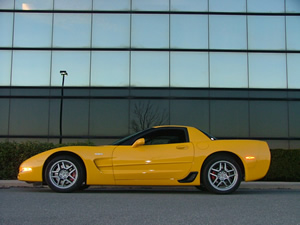 As a business owner with limited time, I could not be more satisfied with my experience selling my car 2003 Corvette Z06 with 5k miles to C and P Imports. The transaction was smooth and went exactly how Dennis said it would. The professionalism displayed was a rare find.